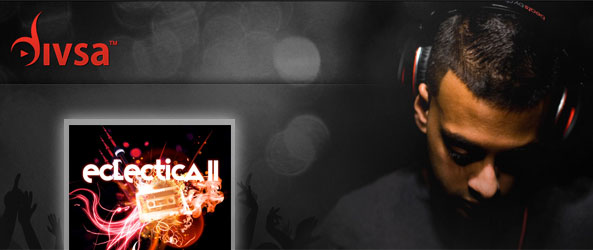 My favorite DJ, DJ Divsa, recently released his latest Mixtape on his web site. He generally gives his podcasts and mixtapes away for FREE. However, this time he's asking for donations with all proceeds going to Butterfly Communities:
A grassroots organization based in Toronto dedicated to building mass awareness of atrocious living conditions that exist in the lower income areas of the city.
Since Divsa has been so generous with all these awesome mixtapes I figured I would help out by promoting the new release. Eclectica II picks up where Eclectica I left off by continuing to blend all old school R&B and Hip Hop from the 1990s and early 2000s. Part two gets even better with some oldies but goodies mixed together perfectly. Believe me, throwing down two dollars is worth it for the music alone…but to help out a charity is even better.
Tracklist:
1. Method Man, LL Cool J – Hit em High
2. Kardinal – Runaway
3. Baby Cham, Foxy Brown – Tables will Turn (Divsa Remix)
4. Monica, Brandy – Boy is Mine (Divsa Remix)
5. Nas – Nas is Like
7. Talib Kweli, Jay-z – Get By (Remix)
8. Dilated People, Kanye West – This Way
9. 2Pac – Do For Love
10. John Legend – Used to Love U (Divsa Remix)
11. A Tribe Called Quest – Award Tour
12. Q-Tip – Let's Ride
13. Alanis Morissette – Hand in my Pocket (Divsa Remix)
14. Lil Cease, Lil Kim, Notorious BIG – Crush on You (Remix)
15. George Michael – Faith
16. Missy Elliot – Get ur Freak on (Divsa Remix)
17. A Tribe Called Quest – Electric Relaxation
18. Lauryn Hill – Lost Ones
19. 2pac – R U still down?
20. Tamia, Talib Kweli – Officially Missing you (Remix)
21. Da Brat, Tyrese – What Chu Like (Divsa Remix)
22. White Town – Your Woman
23. Lauryn Hill – Doo Wop (Divsa Remix)
24. Common – The Light
25. Musiq – Just Friends
26. Beyonce – Summertime
27. Bobby Valentino, Lil Wayne – Tell me
28. Bobby Valentino – Slow Down
29. Aaliyah – If your Girl only Knew
30. Jay-z, Aaliyah – A Million and One Questions
31. Montel Jordan – Something for the Honeys
32. A Tribe Called Quest – Find my way
33. TLC – Creep
34. TLC – Unpretty
35. City High – Caramel (Remix)
36. Jonel, Method Man – Round & Round (Remix)
37. Next, Big Pun – Still Love You (Remix)
38. Mya – Case of the Ex
39. Obie Trice, Nate Dogg – The Setup
40. Alicia Keys – Fallin (Remix)
41. Ruff Ryders – Ryde or Die Chick
42. R Kelly, The Game – Playas Only (Divsa Remix)
43. Nick Cannon, R Kelly – Gigalo
44. Cassidy, R Kelly – Hotel
Thanks to @Divsa for all the great mixtapes. It makes the work day go by so much quicker. Cop the new mixtape here on his blog.